Featured Cleaning Services
Carpet Cleaning Bluffton SC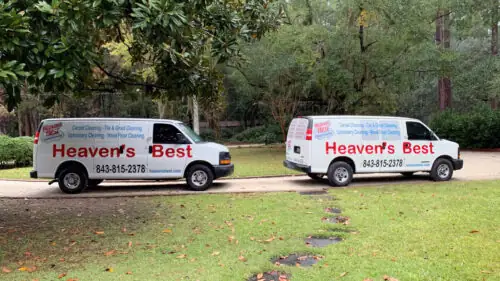 Heaven's Best Carpet Cleaning Bluffton SC offers carpet cleaning, rug cleaning, upholstery cleaning, and more! Our carpet cleaners give you the best value and we are confident that Heaven's Best is the only carpet cleaning company you need. Call to talk to your local carpet cleaning technician to find out which cleaning service is best for you. They can answer your questions and schedule an appointment.
Local Heaven's Best Carpet Cleaning Bluffton, SC
Heaven's Best Carpet Cleaning is now serving Bluffton, Hilton Head Island, and all of Beaufort county.
After years of intensive research, Heaven's Best Carpet Cleaning stood out as the ideal business partner. Heaven's Best is a family owned, faith based, and customer driven franchise. It is the perfect opportunity for us to serve the wonderful people of the Beaufort County Area.
We found the Heaven's Best process really does clean carpets better than all other methods. It dries in just one hour and leaves no residue to re-attract the soil. Their environmentally friendly and proprietary cleaning solutions are safe for children (even babies) and pets. Their goal is to be as "green" as they can and still get the job done…all things that are important to us and set us apart from our competition.
As we investigated, we also saw that the Heaven's Best Carpet Cleaner's eco-friendly, organic solution gets out stains and spots that other cleaners simply do not. That was a major bonus. We found out no one else has this solution…I couldn't get it with any other franchise or any cleaning supply source. It can not be copied.
Additionally, Heaven's Best Carpet Cleaners also offers tile and grout cleaning services, hardwood floor polishing and refinishing, as well as upholstery and leather cleaning. We can also offer restorative cleaning along with maintenance programs for both residential and commercial needs. We offer a well rounded group of related services too.
We are excited to serve the people of Beaufort County South Carolina, offer a unique carpet cleaning experience, and grow our business here in the Bluffton and Hilton Head Island area. Give us a call…you will not be disappointed.
When you schedule your carpet cleaning, rug cleaning, or upholstery cleaning with us, we give you a quote up front. We tell you, the exact time we expect to arrive, and the amount of time we expect the job to take. Upon arrival our clean-cut, uniformed technicians will walk with you and review all spots, stains, and areas of concern that require extra attention. We listen to you let you know what results to expect. Before we start we review with you the exact price for the job. With Heaven's Best Carpet Cleaning Company, you can expect great quality and value.
Dry in one hour!
Safe for Pets and Children
Eco-friendly
Best smelling results in the country
Professional results
Phone Numbers
Bluffton: (843) 815-2378
Hilton Head Island: (843) 415-3320
Beaufort: (843) 321-8470
Grace and Bill ★★★★★

★★★★★

★★★★★

Sean did our floors last year and really brought them back! He removed all the old polish. They were gorgeous.
Kris ★★★★★

★★★★★

★★★★★

Shaun was wonderful! Called and emailed to confirm appointment, showed up on time, was friendly and professional. Price was great and results were fantastic!That sounds pretty cool. I think I'll try that service out next.
Steve ★★★★★

★★★★★

★★★★★

The gentlemen who came were prompt and professional. Due to cats, they had to vacuum again and also used deodorizing solution which helped a lot and only charged a little more than the original quote. They completed the job quickly and I would highly recommend Heavens Best to anyone needing carper cleaning or other services
Heaven's Best Service Area